Welcome To Windycitysalmon.com
Chicago Charter Fishing for Salmon and Trout on Lake Michigan from
Waukegan Illinois for the Chicago, Waukegan and Winthrop Harbor areas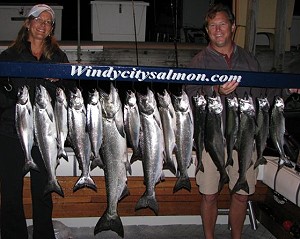 Welcome and thanks for visiting Windycitysalmon.com, serving the Chicago and southern Wisconsin area with world class Salmon and Trout charter fishing. The waters of Lake Michigan off Waukegan Harbor offer the the best Salmon and Trout fishing available anywhere on the Lake for you to enjoy an unsurpassed charter fishing experience all season long in Chicago's own back yard. Because of Waukegan Harbor's close proximity to many near-shore and off-shore structures as well as its geographic latitude - it's not too far north and not too far south - superb and consistent Salmon and Trout fishing is available from Spring thru Fall.
The vessel - Independence - is a 34-foot Tiara. A custom equipped and outfitted charter fishing boat designed exclusively for Great Lakes Salmon and Trout fishing. We are a full-time, US Coast Licensed and insured professional charter fishing operation that is always on the water, ensuring an intense effort at putting our customers on the fish. We proudly maintain shipshape cleanliness and comply with all safety regulations.
There is no experience level required! We are fully outfitted with the best rods and reels you will find on any charter fishing boat on Lake Michigan. Captain Rick Bentley will employ and manage the full spread of rods in an expert manner for your crew. All YOU have to do is haul in the fish and enjoy being out on the lake! For many of our customers - beginners or seasoned anglers - these are the largest fish they will ever catch! We offer 5, 6, and 8 hour morning or afternoon fishing charters for your private group of up to 6 people. We can also accommodate smaller groups of 2 & 3 people at discounted prices. Additional vessels can be arranged for groups larger than 6 people. In addition, we offer multiple fishing charter packages with overnight stays for people who are not from the Chicago area and are seeking a more comprehensive fishing vacation. Please visit the Types of Charters and Rates page to learn which charter we recommend depending on the season.
** 2014 WEEKDAY RATE SPECIALS **
*$175/person for a 2-person group, 5-hour charter Monday thru Thursday*
*$140/person for a 3-person group, 5-hour charter Monday thru Thursday*

We pride ourselves on welcoming back a large volume of repeat customers from both Chicago and abroad that became hooked after their first time charter fishing with Windycitysalmon! We are confident you will thoroughly enjoy your experience as well and invite you to call or email Captain Rick at any time with further questions.
*We are taking reservations for the 2014 Season - Go charter fishing with Capt Rick for a far more unique and memorable, Windycitysalmon experience*
Featuring top-of-the-line gear - Penn International 975, Shimano Tekota, & Daiwa Saltist reels/Shakespeare Ugly Stik & Shimano Talora rods - we invested in the best, highest quality reels & rods you will find on any charter boat on Lake Michigan
Depending on the season, we will take you fishing for Chinook (King) and Coho Salmon as well as Steelhead (Rainbow), Brown, and Lake Trout. Catches of a dozen fish, all the way up to limit hauls of 20-30 fish a charter are common.
Depending on the species, we generally catch salmon and trout in the 3-20lb range with larger, monster trophy fish not uncommon. On most days the value of your wild salmon and trout fillets will often exceed the actual cost of your charter. After complimentary cleaning of the catch at dockside, we will also furnish you with delicious, personally tested, take-home recipes to easily prepare your catch for the table, further extending your enjoyment of this world class fishery. And remember that these are wild fish that swim in the icy and crystal clear waters of Lake Michigan and not the farm-raised versions you find in most stores that have far higher fat and PCB content.
Please navigate through the website to find out more about our captain, the vessel & equipment, seasons, rates & types of charters, and what to bring & expect on our Lake Michigan salmon & trout fishing charters. Also click on the tabs, at the top of the page, to learn more about the types of fish we catch and check back often to read updated fishing reports.
Please feel free to call, text or email us for further questions about available dates or to just check in to see how fishing is. We will be happy to discuss how conditions are at any time of the day, even when we're on the water. Please note that if you need a prompt answer regarding date and time availability then it is better to call us. We check our email frequently but there will be days that we will be on the water all morning and afternoon and will not be able to respond until we return that evening.